Lester's Natural Stone - Delivery or Pickup
Flagstone - Bluestone - Cobblestone - Boulders - Cut Drywall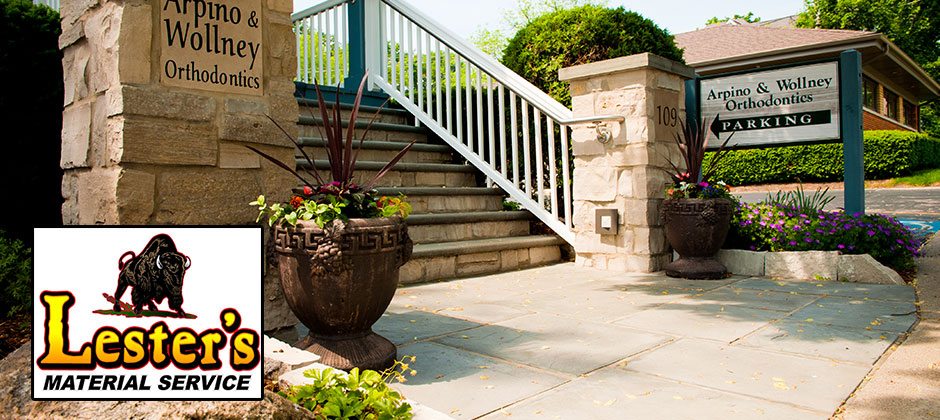 Whether as fascia for an exterior wall or a decorative walkway, natural stone products add a level of regal elegance to your home or office. Depending on the style of natural stone you use, it can also create an intimate scene reflecting the splendor of nature. From your patio to paths through your garden, natural stone also adds value to your landscape.

While there are facsimiles of natural stone, none fully capture the essential beauty of natural stone. Natural stone visually transforms your property as the surface of a patio, a path to the front door, a walkway through the garden or as a decorative garden retaining wall. Coupled with other quality landscaping materials, and composed with an artistic flair, you can transform your property into a virtual paradise.

Many types of natural stone are literally cut out of the strata of hillsides where the natural stone was compressed by the weight of mountains over the course of centuries. Types of natural stone have varying degrees of uniformity and, therefore, are often better suited to particular uses – where one natural stone works well as fascia on the front of your home, or in the den by a fireplace, another is ideal for a patio. When choosing the best natural stone for your project, considerations include color, shade, uniformity and surface. The following photographs and descriptions should help you to decide.

Bluestone – comes in cut slabs of varying dimensions, including 12" X 12" or 12" X 18" all the way up to 36" X 36", but does not come in uniform thickness. This requires shims below thinner pieces to achieve a flat surface. Like its name, bluestone is generally blue in color. However, it also comes in shades of red and brown. Typical uses include:

Counter Tops
For a Patio
For a Walkway
Inside Porch Floor
Pillar or Wall Caps

Flagstone – is harvested but not cut. It comes in varied thicknesses and light colors, such as natural, tan and gray, depending on its place of origin. In fact, the types and colors are named after the place of origin – such as the varieties we carry - Lannon Natural Stone, Fon Du Lac Natural Stone and Chilton Natural Stone – all from Wisconsin. Uses include:

Decorative Retaining Walls and/or Garden Retaining Walls
Edging
Walkway
Steps
Patio

Cut Drywall – has a deceptive name. It has little in common with the sheetrock drywall used in your home, and it's not cut; it's snapped. Cut Drywall is snapped at particular dimensions to create uniformity. The thickness is also generally uniform and depends on the vein where it was harvested. Cut Drywall natural stone is rectangular in shape with lengths running to about 18 inches, widths of up to six inches and thicknesses of up to 4 inches. It comes in color choices similar to what you'll find in flagstone, as the Cut Drywall we carry also comes from the same locations as the flagstone we carry. Cut Drywall is often used for:

Fire Pits
Fireplace
Decorative Accent Pieces in Brick walls
Decorative Walls, Small Garden Walls

Cobblestone – are rounded granite boulders from 3 to 8 inches, 8 to 18 inches and 18 inches or larger. Colors include red, browns, gray, pinks or deeper earthy tones. Some are solid in color and others are speckled. Uses include:

Retaining Walls
Edging for Planter Beds
Embedded in the Ground
Driveway Ribbons
Larger Boulders as Garden Features or Accent Pieces
As Memorials where you can mount a Plaque



Bluestone

A variety of sizes are available. All blue or full color.

Flagstone

Assorted flat surfaced sizes for walkways and patios, as well as drywall boulders.

Walls - Cut Drywall

Residential and commercial retaining walls, garden walls, seat walls and shoreline retention.

Cobblestone

Boulders of
3 - 8 inches;
8 - 18 inches;
18 inches or more.
Don't Forget to Use Lester's Bulk Material Estimation Calculators
Phone: 847-223-7000 / Fax: 847-223-7067
Family Owned and Operated
Lester's Material Service, your family owned local business, is proud to offer bulk landscape products for pickup or delivery. Stop by our location in Grayslake or schedule a delivery to your location!
Lester's can deliver your bulk Topsoil as well as Lawn and Gardenmix to these Lake County IL and Southern WI locations. View our affordable delivery charges.
Antioch
Arlington Heights
Bannockburn
Barrington
Buffalo Grove
Crystal Lake
Deerfield
Grayslake
Gurnee
Hawthorn Woods
Highland Park
Inverness
Kildeer
Lake Bluff
Lake Forest
Lake Villa
Lake Zurich
Libertyville
Lincolnshire
Lindenhurst
Long Grove
McHenry
Mundelein
Palatine
Round Lake
Vernon Hills
Wadsworth
Wauconda
Waukegan
Kenosha
Pleasent Priarie
Bristol
Paddock Lake
Silver Lake
Camp Lake
Twin Lakes
Powers Lake
Lester's Material Service Has It All!