Lester's Material Service, Inc. History
Written July 8, 2010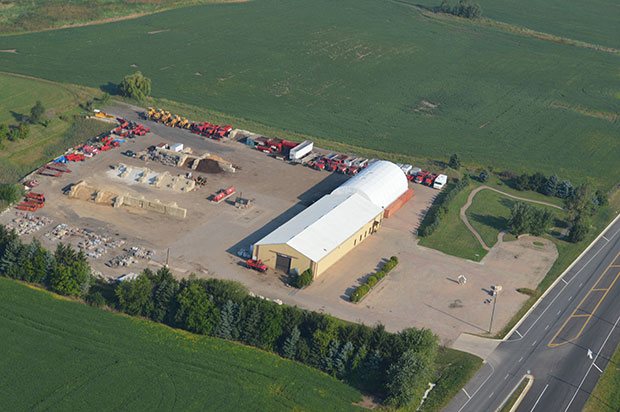 Second Generation Sales & Service
1951 Ron Lester joined the U.S. Marine Corp. and fought in the Korean War, when his service ended he ranked a Sergeant Major. During that time Ron developed a passion for buffaloes after he studied them and used the knowledge to teach his men about adaptation and survival. After the corps, Ron Lester spent a number of years working for others in the construction trades.
1957 He married the woman he fell in love with at first sight, Connie, who he laid eyes on at the Mundelein bowling alley. They had 4 boys and 3 girls, all born and raised in Lake County, Illinois. Their names are, in age order oldest to youngest, Ronald F., Anita, Steve, Sue, Lori, Bill and Mike. During this time, starting 1960 Ron and Connie Lester had R & L Excavating specializing in concrete work and in ground pools. The office was operated out of Connie's childhood home in Mundelein.
The business then moved to Rt. 60 in Mundelein across what used to be the Ball Glass Factory which is Medline today. Over the years and through customer suggestions products were added, giving birth to the material yard distributing bulk topsoil, sand, gravel, limestone, mulch, boulders, slate/flagstone, brick pavers, just to name a few.
Since the corps, Ron Lester remained passionate about buffaloes and sought permission to own buffaloes. He got that permission in 1973. So Ron, Connie and their 7 kids packed up the RV, with a two horse trailer and a sign on it that read "Buffalo or Bust", to Yampa, Colorado. They picked up and brought back one bull and three heifer buffaloes to their Rt. 60, Mundelein business property. The first buffalo in the northern Illinois and southern Wisconsin area.If you have lived in the Lake County area for at least 15 years or more, you would be familiar with that buffalo story and the reason for our buffalo logo.
The business had its share of hard knocks, name changes, locations and zoning battles. Causing the buffalo and business, Lester's Material Service, Inc., to move in 1988, to welcoming Grayslake on the Southeast corner of 83 & 137. Ron Lester and family built the building that accommodated the then HWI ® hardware store. At the same time, the brick paver industry was being brought back to life and Lester's Material Service, Inc. started distributing and installing the Unilock ® brick paver and retaining wall products along with edging, spikes, drainage, outdoor lighting, with other complementing products. Lester's was the first in the area, making them the oldest brick paver and retaining wall supplier and installer in Lake County.
The buffalo herd was growing so rapidly that the Grayslake 83 & 137 corner they were grazing on could not accommodate the stampede. They had to be moved to bigger pastures in order to freely roam.
The HWI store was phased out due to big name hardware store competition popping up in close proximity and other material yards competitors were also popping up in close proximity to Lester's Material Service, Inc.
Ron Lester had an idea. The business property had two rail lines bordering it. So Ron Lester and family built a rail spur to freight in by train the bulk products Lester's Material Service, Inc. was selling. They were now selling to the material yard competitors, business boomed, it created more jobs and it caught the eyes of a well known limestone processor who made an offer to purchase the property.1996 Ron and Connie Lester sold the 83 & 137 corner property and retired having been blessed to work with all of their kids and even their kids' spouses at one time or another. Ron, Connie and the buffalo moved out to Harvard, IL. Because Ron isn't able to sit idle for to long, Ron and Connie Lester built a home and formed Lester's Bison Farm, raising his herd and selling the lean buffalo meat (leaner than any meat product) at local farmer's markets, including but not limited to Grayslake's Farmer's Market and out of his home.
With Ron and Connie gone and none of the kids qualified to run Lester's Material Service, Inc., they left a non-family member to run the business. The business rented a small sliver of property on that sold 83 and 137 corner for 2 ½ years while trying to find the next location and still employing all the people hired for the rail spur operation that had been sold. A horse farm was found for sale by then realtor Tracey Lester, Ronald F. s wife. We went to look at the property and it had a yellow metal building with the builder's/mfg sign up on the side wall just under the roof peak that read LESTER. There is a Lester metal building company and this was one of the ones they built. We took that as a sign and moved down the street on 83 just north of Peterson Rd in Grayslake. 1998 three of Ron and Connie's 7 children, Steve, Lori and Bill, purchased the property and moved the business to where it is today.
1999 Steve, Lori and Bill purchased the business making it a 2nd generation family owned and operated business but they were not handed the business on a silver platter by no means. Since Ron and Connie sold the 83 & 137 corner in 1996 and retired, the business was building debt due to payroll, still employing all the people needed to run the spur, plus the new location's construction costs. Things were financially bad, they had to personally loan the company money just to cover payroll prior to purchasing it. They could have started over with zero debt, after all, their names are Lester too. But they thought to themselves, "Were young, we love our parents and we don't want to leave them with that debt, we can turn it around in 5 years." They did get through what they called 5 years of financial hell, with the help of their understanding vendors and bankers, loyal customers and most of all, God's gracious miracle ISAIAH 58:12.
Today, "Lester's Material Service, Inc. is a stable company that has 'weathered the storms' then and today during these rough economic times because of loyal customers, vendors and bankers who have grown up with us and put their trust in us and of our history with them. We thank all who have stood by us and all those who will allow us to service their topsoil, hardscape and landscape supply and installation needs now and in the future."
The Lester's
847-223-7000
NOTE: Do not be fooled by imposters, our primary company color is red with yellow/black/silver lettering with the buffalo logo. If you don't see that, then it is not us. Also see the news release dated 7/22/2010.
Whatever happened to the buffalo you ask? In early 2000 a second herd was located in Salem, WI. Harvard Farm was sold and on May 2004 the Harvard herd was reunited with the Salem, WI herd and are there today. Ron Lester renovated one of the barns on the farm so he could sell the meat in Salem, WI off of Hwy K just east of Hwy W and north of Hwy 50 where he welcomes visitors. If you go in the spring you might catch a baby buffalo being born.
Don't Forget to Use Lester's Bulk Material Estimation Calculators
Phone: 847-223-7000 / Fax: 847-223-7067
Family Owned and Operated
Lester's Material Service, your family owned local business, is proud to offer bulk landscape products for pickup or delivery. Stop by our location in Grayslake or schedule a delivery to your location!
Lester's can deliver your bulk Topsoil as well as Lawn and Gardenmix to these Lake County IL and Southern WI locations. View our affordable delivery charges.
Antioch
Arlington Heights
Bannockburn
Barrington
Buffalo Grove
Crystal Lake
Deerfield
Grayslake
Gurnee
Hawthorn Woods
Highland Park
Inverness
Kildeer
Lake Bluff
Lake Forest
Lake Villa
Lake Zurich
Libertyville
Lincolnshire
Lindenhurst
Long Grove
McHenry
Mundelein
Palatine
Round Lake
Vernon Hills
Wadsworth
Wauconda
Waukegan
Kenosha
Pleasent Priarie
Bristol
Paddock Lake
Silver Lake
Camp Lake
Twin Lakes
Powers Lake
Lester's Material Service Has It All!