Lester's Bulk Gravel - Delivery or Pickup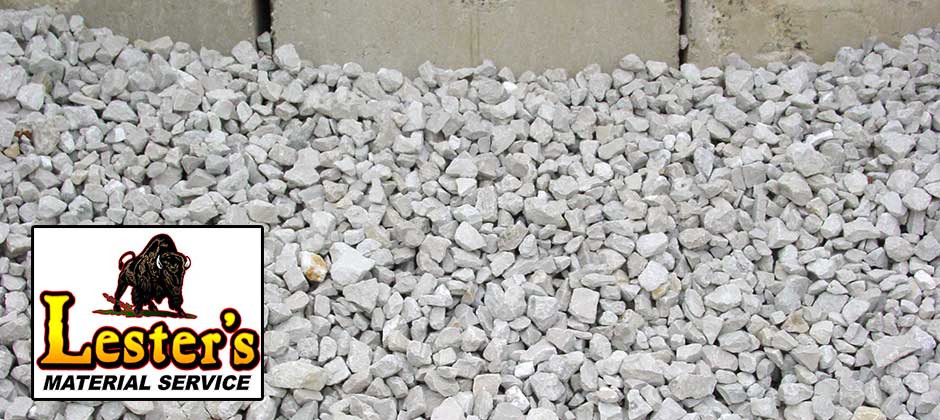 At Lester's, you can pick up a bag of gravel for that small project you have at home. We'll be glad to share our expertise to help you pick the right gravel for your specific project. We'll also offer tips on how to best use your gravel. However, if your project requires a larger quantity of gravel, we also sell them in bulk. You can test the suspension on your car or truck, or we'll deliver your sand or gravel for you.
Lester's can also help make sure you receive your gravel in the appropriate quantity for your project. We offer our online easy Bulk Gravel Calculator so you can determine how much gravel you need, or our sales representatives are always happy to answer your questions.
While we're happy to share our expertise on gravel, the list below will answer many of your questions about which gravel best fits your needs:
Peagravel – gets its name from the size of its pebbles; the stone is about the size of peas (1/4 to 3/8 inch in diameter). It comes washed, has excellent color giving it good decorative properties. It also has excellent drainage qualities though it is not particularly firm to walk on. It's customary uses include:
For bedding and installation around Drain tile and Drainpipes

As a Course Mix with Concrete

In Dog Runs for Smaller Dogs
No. 6 Stone – this is a washed river rock that is good for drainage. Individual pebbles are between ½ and ¾ inches. It's works well as an attractive and functional stone. It's good as a first layer on projects where more expensive and larger sized stones will be used on top. It's customary uses include:
Mixed with Concrete oUnder Decks

For Drainage in Window Wells

For bedding and installation around Drain tile and Drainpipes

In Dog Runs for Larger Dogs
No. 8 Stone – this is one of the most decorative stones in this class of stone. Individual river-washed rocks are between 1 and 1-1/2 inches in diameter meaning there are substantial pockets in this stone mix. As a result, it drains very well. On the other hand, mixing it with No. 6 Stone produces a mix with excellent drainage properties and that is good for walking. Its uses include:
Under Decks

In Window Wells

For bedding and installation around Drain tile and Drainpipes

As a Top Layer Above No. 6 Stone

In Dog Runs for Really Big Dogs
Grade 9 Gravel – this is road construction grade gravel. It consists of crushed gravel with a size of ¾ inch down to fine particles. It works well as base under brick pavers or flagstone. Considering its use in road construction, it's no surprise that Grade 9 Gravel is also excellent for use under driveways and walkways. It creates a solid sub-base that can take considerable weight.
3/8-inch clear and ¾-inch Clear Gravel – a crushed gravel with pieces of these sizes best used for under raised patios and under permeable pavers where it packs but allows drainage. When ordering your sand or gravel, you can use our easy Estimator Calculator . However, you'll want to check with us as to whether you're ordering a fluffed ratio, where you're spreading out the sand or gravel; or where you're using a compacted ratio, in the case of Grade 9 gravel, Grade 8 limestone and limestone screenings, such as under a driveway or anywhere else that requires the sand or gravel to be compacted. This will significantly change the quantity of sand or gravel you'll need for your project.
GRAVEL
We Carry all grades

See Gravel Pricing
PEA GRAVEL
3/8" CLEAR CHIP
#6 STONE
3/4" CLEAR CHIP
#8 STONE
OLD TIME SCREENINGS
GRADE 9
Be sure to check out Lester's easy Mulch Estimator Calculator on this Web site to determine how much gravel you need for your project.
Don't Forget to Use Lester's Bulk Material Estimation Calculators
Phone: 847-223-7000 / Fax: 847-223-7067
Family Owned and Operated
Lester's Material Service, your family owned local business, is proud to offer bulk landscape products for pickup or delivery. Stop by our location in Grayslake or schedule a delivery to your location!
Lester's can deliver your bulk Topsoil as well as Lawn and Gardenmix to these Lake County IL and Southern WI locations. View our affordable delivery charges.
Antioch
Arlington Heights
Bannockburn
Barrington
Buffalo Grove
Crystal Lake
Deerfield
Grayslake
Gurnee
Hawthorn Woods
Highland Park
Inverness
Kildeer
Lake Bluff
Lake Forest
Lake Villa
Lake Zurich
Libertyville
Lincolnshire
Lindenhurst
Long Grove
McHenry
Mundelein
Palatine
Round Lake
Vernon Hills
Wadsworth
Wauconda
Waukegan
Kenosha
Pleasent Priarie
Bristol
Paddock Lake
Silver Lake
Camp Lake
Twin Lakes
Powers Lake
Lester's Material Service Has It All!