Lester's Bulk Limestone - Delivery or Pickup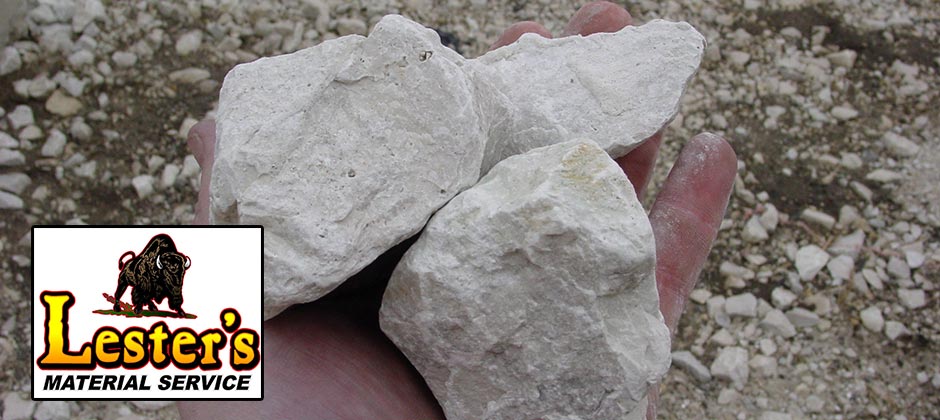 Limestone - Limestone is not indigenous to the Northern Illinois area. However, bringing aggregate limestone into the area is well worth the effort considering its many uses. Limestone is composed of fractured stones giving it its aggregate texture – you won't find rounded pebbles in your limestone. Though different grades of limestone have different sizes of aggregate, even with limestone that has large pieces, there is also a thorough mix of fine aggregate particles.
The varying dimensions and the fractured texture of limestone combine to make limestone an effective packing material. As such, Grade 8 limestone aggregate is an excellent base for roads, driveways and pathways. It even works well as a surface material in some instances. However, since the aggregate tends to pack together tightly, it fails the test if you're also looking for a material with good drainage properties.
The different aggregate sizes of limestone also work well for layering sub surfaces of roads and pathways, with the finer aggregate grades of limestone as a dressing at the top. Some of the common uses for limestone include:
As a base for asphalt and concrete roads, driveways, walkways and paths
Biking and walking paths
Horse stable arenas and stalls
Dog runs
As jointing material between flat boulder and flagstone surfaces
And many more uses …
Grades of limestone aggregate include:
2- to 3-inch Limestone – primarily a construction grade of Limestone
Limestone Screenings – this includes limestone aggregate that is relatively small down to fine particles. It can pack into a hard surface with limited drainage capacity. Its uses include:
On Bike Paths
Walking Paths
Horse Stable Arenas and Stalls
In Dog Runs (can irritate a dogs feet if the dog has cuts)
As Fill between Flat Boulders and Flagstone
Many Other Uses
Grade 8
Limestone

Limestone
Screenings

3/8"
Limestone

3/4"
Limestone

2"-3"
Limestone
| | | |
| --- | --- | --- |
| LIMESTONE | | |
| SCREENINGS | $38.00 / TON | |
| GRADE 8 | $38.00 / TON | |
| 3"-1" STONE | $45.00 / TON | |
| #3 RIP RAP | $85.00 / TON | CALL FOR AVAILABILITY |
| #4 RIP RAP | $85.00 / TON | CALL FOR AVAILABILITY |
Don't Forget to Use Lester's Bulk Material Estimation Calculators
Phone: 847-223-7000 / Fax: 847-223-7067
Family Owned and Operated
Lester's Material Service, your family owned local business, is proud to offer bulk landscape products for pickup or delivery. Stop by our location in Grayslake or schedule a delivery to your location!
Lester's can deliver your bulk Topsoil as well as Lawn and Gardenmix to these Lake County IL and Southern WI locations. View our affordable delivery charges.
Antioch
Arlington Heights
Bannockburn
Barrington
Buffalo Grove
Crystal Lake
Deerfield
Grayslake
Gurnee
Hawthorn Woods
Highland Park
Inverness
Kildeer
Lake Bluff
Lake Forest
Lake Villa
Lake Zurich
Libertyville
Lincolnshire
Lindenhurst
Long Grove
McHenry
Mundelein
Palatine
Round Lake
Vernon Hills
Wadsworth
Wauconda
Waukegan
Kenosha
Pleasent Priarie
Bristol
Paddock Lake
Silver Lake
Camp Lake
Twin Lakes
Powers Lake
Lester's Material Service Has It All!