Super Soil - Screened Bulk Topsoil Dirt Delivery or Pickup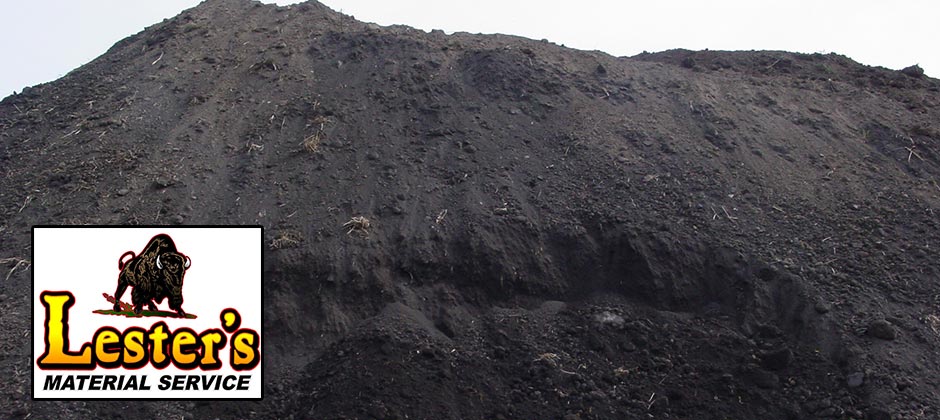 Top Quality Topsoil - From Our Dirt Field to Yours!
Topsoil is the foundation of your lawn and garden. If you want those flowers to explode in a kaleidoscope of color, provide them with a bed or nutrient-rich soil where they can take root. The same holds true for your lawn and vegetable garden. The better the soil the better the lawn or garden.
Lester's prides itself on providing the best quality organic topsoil in the region. Our premium topsoil is carefully prepared before we offer it to our customers. This includes disking the soil to break up clumps and prepare it for receiving fertilizer, moisture and seeding. The next step, pulverizing, further breaks down the soil and ensures that it will support healthy and rapid growth of lawns and gardens.
Then, we make it even better!
Then we screen the soil to remove any foreign matter, such as rocks and sticks. Where the industry standard is to run the soil through a 1-1/2 X 1-1/2 screen, at Lester's, our premium topsoil is screened down to 5/8-inch X 5/8-inch. As a result, our competitors can't touch Lester's soil for quality.
We then test our topsoil to ensure there are no hazardous materials and, at the same time, it's full of all of the nutrients needed to provide a healthy lawn. Testing topsoil will determine whether it contains Atrazine or Preen, two widely used herbicides. While preen will not inhibit the growth of a lawn or plant seed that has already germinated.
Don't Forget to Use Lester's Bulk Material Estimation Calculators
Phone: 847-223-7000 / Fax: 847-223-7067
Family Owned and Operated
Lester's Material Service, your family owned local business, is proud to offer bulk landscape products for pickup or delivery. Stop by our location in Grayslake or schedule a delivery to your location!
Lester's can deliver your bulk Topsoil as well as Lawn and Gardenmix to these Lake County IL and Southern WI locations. View our affordable delivery charges.
Antioch
Arlington Heights
Bannockburn
Barrington
Buffalo Grove
Crystal Lake
Deerfield
Grayslake
Gurnee
Hawthorn Woods
Highland Park
Inverness
Kildeer
Lake Bluff
Lake Forest
Lake Villa
Lake Zurich
Libertyville
Lincolnshire
Lindenhurst
Long Grove
McHenry
Mundelein
Palatine
Round Lake
Vernon Hills
Wadsworth
Wauconda
Waukegan
Kenosha
Pleasent Priarie
Bristol
Paddock Lake
Silver Lake
Camp Lake
Twin Lakes
Powers Lake
Lester's Material Service Has It All!