Lester's Material Delivers Bulk Materials to You!
Lester's Material delivers mulch to your door, or driveway!
Did you ever wonder how much 8 cubic yards of mulch is? Well, if you purchased this amount at your big box store, it would be the equivalent of 108 bags of 2 cubic foot mulch...that's a lot to carry!
Note the vibration at the end of the video to help you get every little bit!
Welcome to Lester's Material Service
You'll begin by loving our materials, then our service!
Lester's Wins Unilock Awards of Excellence for Best Permeable Paver Installation 2014
The Awards of Excellence is an annual photo contest showcasing the best installations with Unilock Products. Finalists are invited to an awards banquet, where the winners are announced.
Lester's has been a finalist for many Unilock's Awards of Excellence!
2006 - Best Outdoor Living Space
2008 - Best Project Featuring Select
2009 - Best Permeable Installation
2011 - Best Front Entrance
2013 - Best Permeable Installation
2015 – Best before and After
2016 – Best Front Entrance
2017 – Best Natural Stone Porcelain
We Treat Your Family like Our Family - 2nd Generation Family Owned Business!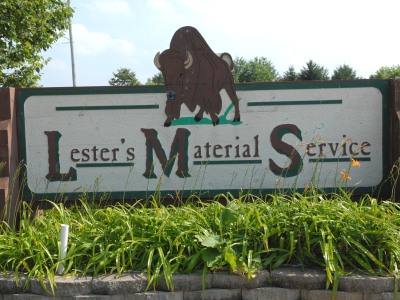 Established in 1960 with two generations of experience. Lester's is large enough to handle any size project; but small enough to give you personalized service.
Our Employees Lester's Material Service hires only the best craftsmen available in the trade. We will see your project through from imagination to reality. Lester's Sales Team will help you come up with a custom design that meets your specific needs.
Our Design Philosophy Let form follow function and let your pavers project become an extension of your home. By assisting you in your selection of texture and color, you are assured an excellent result.
It's A Family Business....
Lester's Material Services is a 2nd Generation Family Business. Lester's Material Service, Inc., a landscape supplier located at 1980 S. Route 83, was founded in 1960 by Ron and Connie Lester, proprietors of Lester's Bison Farm. Lester's is known to be Lake County's oldest and largest hardscape dealer and installer.
Picking Up Your Landscape Materials? Working with Lester's Is Easy!
We are happy to deliver your bulk materials to you, BUT if you want to pick them up, here's how we do it!
Get Your Weight: You arrive in your car, truck or wagon. You pull up onto the scale. We weigh your vehicle. Wait for someone to say "Thank You".
Select your product: You come into the office and select the material that you'd like to purchase: topsoil, sand, mulch, gravel or even grass seed!
You Get Loaded: we will load it for you or you can load it yourself!
You Get Back on the Scale: We then weigh your vehicle with the product loaded...wait for the "Thank you".
Come back into the office to pay for your purchase.
Stop By Lester's Material or Give Us a Call
1980 S IL Route 83
Grayslake, IL 60030

Telephone: (847) 223-7000
Fax: (847) 223-7067

Email: info@lestersmaterial.com

Our Hours Are Currently:
Monday - Friday: 9am-3pm
Saturday: Closed
Sunday and Holidays: Closed
On occasion we are closed or close early due to customer traffic or the weather.
Testimonials
Lester's Material Customer Testimonials

"It looks amazing! I love it! The crew left the site very neat when they left. Thank you! " Brian and Sue Y.
Grayslake, IL

"Ladies and Gentlemen,The new patio installed by you folks exceeded our expectations.We learned a lot from observing the building of the patio beginning with the establishment of the base gravel levels through the final color matching of the cobbles. The crew was .skil. David & Kate Q.

"Dear Keith,In every field of endeavor there are always those few people that go beyond that which is expected of them. Keith, you and your staff are some of these 'few' people.Virginia and I extend to you and your staff our deepest appreciation, for superior results f. Glenn & Virginia H.

"Dear Sirs;This letter is a 'thank you' for the excellent job of laying bricks on my driveway here on Guerin Road in Libertyville. The quality of workmanship was great, as you did on completely re-doing my patio with bricks, your men were hard working and my area was c. Jackie & Joe N.

"Just a quick note to let everybody know that it was a pleasure to work with Keith and the guys on our pavers project. Everything was finished with complete satisfaction.Keith was so easy to work with. Whatever we wanted, Keith was willing to get done. He was repeatedl. Jerry and Carol B.

"Dear Keith,Thank you so much for the beautiful walkway. We are very happy with the work. The stairs are easy to navigate and the brick landings are so beautiful that is looks like a picture from a gardening book of design. Thank you also for giving the project drainag. Joe and Karen P

"Dear Keith, It was a pleasure to work with you and your team from Lester's, and this comes with our thanks and appreciation for a job well done. Our patio, entryways and sidewalks all look great. We're especially pleased with the smooth transition between each space. Rebecca & Bob S.

"Dear Keith & Crew,Thank you very much for the professionalism, attention to detail and hard work that went into our new patio!We are very pleased with our changed backyard space and would highly recommend "Lester's" to family and friends. From first contact to project. The Duffy Family

"Thank you for the outstanding job Lester's did replacing our old brick and timber stairs with new brick and stone steps. The design is absolutely beautiful and we are beyond thrilled. The results far exceeded our expectations. It is apparent by the completed project t. Tom and Debbie O

"Gentlemen,I commend you on the timely scheduling of the work as well as the speedy completion in two days. Your crew worked diligently, particularly on the partial wall, until it met my expectation. At the end of a long day they took time to clean everything before th. Zenia K